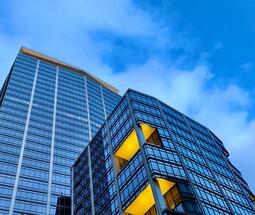 With €15.8 billion invested and a demand of 1.8 million square meters in 2021, up 32% from the previous year, the office market seems to be turning the page on the health crisis. While it is down by 2.2 million square meters (-18%) compared to the ten-year average, the market is regaining positive momentum.
"The death of the office has been announced, but this is not the case: investors have not abandoned this asset class and corporate movements are to be expected," announces Boris Cappelle, CEO of Savills France. However, the recovery is not happening at the same pace in all markets. While the Parisian QCA (Central Business District) and La Defense are experiencing growth of 54% and 3% respectively, the trend is the opposite for less affluent neighborhoods.
Office real estate rebounded in Île-de-France:
"It is the low-depth or surplus market sectors that will benefit the most," notes Eric Siesse, Deputy General Manager of the Office Rental department in Île-de-France at BNP Paribas Real Estate Transaction. The peri-Defense area and the first crown have experienced volume declines of around 10% and 25% respectively compared to the ten-year average.
Reorganization of workspaces:
With an average of two days of teleworking per week, companies are reorganizing around flexible office spaces. "The ratio of one workstation per employee has decreased to a rate of 0.7 workstations per employee, or even 0.5. The combination of flexible offices and teleworking is leading companies to reduce their office space," says Eric Groven, President of Sogeprom and Société Générale Real Estate. In addition, large real estate consumers, particularly in the banking and insurance sectors, are downsizing.
In 2021, between 50% and 60% of transactions over 5,000 square meters involved a reduction of 20% to 30% in office space - up to 50% for the Up group (Chèque Déjeuner), which went from 30,000 to 15,000 square meters on its Gennevilliers site. Others are turning to coworking operators. This is now a common practice in office buildings, such as the Lumière building (100,000 square meters) in Bercy and the Landscape tower (70,000 square meters) in La Defense, which have respectively allocated 5,000 and 2,200 square meters to the startup Comet Meetings, a specialist in office reception services.
La Défense: Hermitage does not give up on its twin tower project.
The implementation of flex office is leading to hybrid workspaces, places for socialization and a superposition of uses in spaces," explains Alexandra Villegas, associate architect at Studios Architecture. The firm has just delivered the Latitude building in La Defense, designed as a hub, with an active base offering a wide range of services and numerous restaurants that can be used throughout the day as workspaces. The building was fully leased to Sopra Steria for its 2,000 employees during the lockdown.
Dressing and retaining talent:
After a health crisis that isolated employees, the office has become the best vector for recreating social ties, but more importantly, a management and human resources management tool. "Real estate is a powerful asset for attracting or retaining talent, in a context where recruitment challenges are very high for growing companies," says Olivier Taupin, director of the Agency at Cushman & Wakefield.
In 2021, the group consolidated its teams, already spread across several sites in the Paris region, in its new headquarters on Avenue Charles de Gaulle in Neuilly, with the aim of offering employees a unique gathering place, promoting exchanges and maintaining a corporate culture.
Source: Published on March 14, 2022 by Les Echos